Fire Outbreak
HEALTH AND SAFETY
HEALTH NEWS
Ochanja
Onitsha
Black Wednesday in Onitsha -The fire outbreak! (Contains disturbing photography – Viewers' discretion is advised)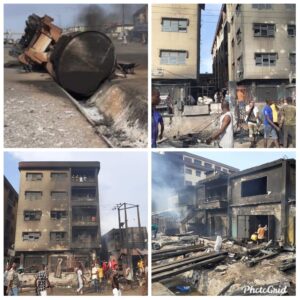 Onitsha the commercial nerve centre of the South Eastern Nigeria experienced a double fire outbreak today which was caused by just an incident. According to eye witnesses, a tanker loaded with petrol fell at Upper Iweka area of Onitsha and the petrol flowed on the road and drainage channels. The situation gave rise to fire outbreak at Upper Iweka which affected some houses at that area.
Meanwhile, some people at Ochanja market (a location very far away from Upper Iweka) who never knew about the tanker were busy with their business activities, and were unaware that the spilt petrol had gotten to their location through the drainage channels were suddenly consumed by fire. It was a serious case of confusion and pain as many lives and properties were suddenly brought down to dust. The inferno consumed some parts of the heavily populated Ochanja market like a storm as people were taken unawares.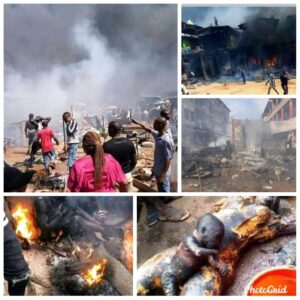 Most painfully was that the Fire Service Team in the state was nowhere to be found as people were battling the inferno with buckets and sachets of water until another Fire Service Team arrived from the neighboring state, Delta. As at the time of this report, the number of individuals who lost their lives had not been ascertained.
It can be recalled that a similar incident happened at Amawbia Roundabout, Awka in February this year and lives and properties were lost. Yet no concrete measure has been put in place to prevent the reoccurrence while a high level of dysfunction exists in
the Fire Service.