Foot Massage
HEALTH AND SAFETY
Restless Leg Syndrome
Williams Mbama
Benefits of Foot Massage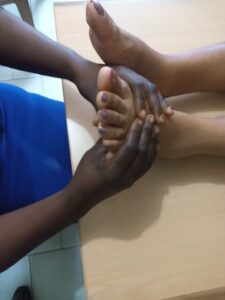 When you massage your feet you are doing more than just stimulating your feet, you are actually stimulating other parts of the body.
Applying pressure in some areas of the feet affects the treatment of various diseases. It really helps the organs to improve and maintain their good work.
It is highly recommended to massage your feet every night at least for about 15 minutes especially for people who have (RLS) Restless Leg Syndrome.
DID YOU KNOW THAT FOOT MASSAGE
– Improves the blood flow
– Affects the relaxation and muscles stretch
– Stimulates the secretion of sweat
– Eliminates those acids that could cause cramps in women
By Williams Mbama