Cancer
Cancer Survivors
Detection
Federal Medical Centre Owerri
HEALTH AND SAFETY
HEALTH NEWS
Nigeria Cancer Society
Prevention
Treatment
World Cancer Day in Owerri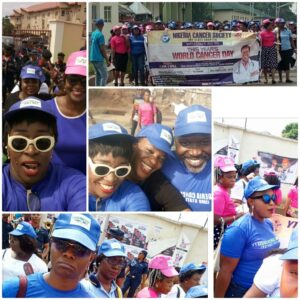 All over the world, 4th of February is celebrated as World Cancer Day. It is a day set aside by World Health Organization to raise awareness of cancer as well as its prevention, detection and treatment. It is evident that cancer can affect any part of the body and it is one of the leading causes of death globally.
This year, the Nigeria Cancer Society, Imo State Chapter, in collaboration with hospital community of Federal Medical Centre Owerri Imo State, South Eastern Nigeria took part in the campaign against cancer.

The event started with reaching out to members of staff and patients within the hospital and later to the public on the roads of Owerri.
There were lectures on the types of cancer, prevention, detection/ diagnosis,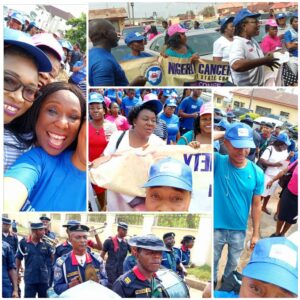 and treatment. However, more emphasis were laid on prevention measures like: Regular cancer screening, Healthy eating habits, Regular physical exercises, Adequate sleep/rest, Correct use of drugs, as well as keeping away from banned substances, radiations, alcoholism, smoking, stress etc.
As part of the celebration, Cancer Survivors were present to share their success stories in defeating cancer and they were all inspirational. The members of the public were provided with different kinds of free cancer screening as much as the Care Providers could handle for the day; while others were given appointments.
It is evident that early detection is the remedy to cancer. Get screened today!